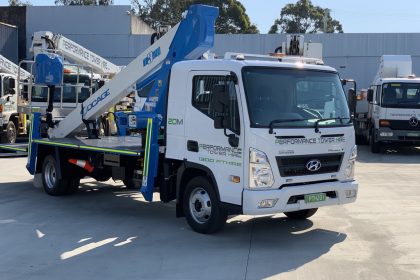 If you've been wondering what cherry pickers actually are, how to choose the best type of cherry picker for your needs and where to go when you need a reliable cherry picker, you've found your answer in this article.
If you're in or around the construction industry, there's almost no doubt you would have heard the term "cherry picker". But what is a cherry picker, which type of cherry picker is suitable for which purpose, when you might need a cherry picker, and when you should contact Performance Tower Hire. Here, we'll reveal all.
What is a Cherry Picker?
Let's start with the basics. What is a cherry picker?
While some may associate the term "cherry picker" with someone who picks cherries and other fruit, in terms of construction – particularly in Australia – a cherry picker is another word for an aerial lift platform or mobile elevating work platforms.
It has a vertical boom which is attached to a platform or bucket, in which a construction worker stands and is transported from place to place by the person operating the machinery.
At Performance Tower Hire, we specialise in supplying quality, reliable cherry pickers for hire to professionals who work in the construction industry. Since 2015, we've made the construction industry our business and pride ourselves on providing our customers with nothing less than the best.
How Many Types of Cherry Pickers Are There
There are a few different types of cherry pickers, which we will detail below.
Articulating or Truck MountedBooms
Cherry pickers with articulating booms are designed to reach areas that are a little trickier to get to. Truck mounted booms – the type we at Performance Tower Hire specialise in – do pretty much what it says on the box. They are pre-mounted to vehicles and therefore easy to transport from location to location.
Telescopic Booms
As inferred by the name, telescopic booms are great when you need to work at high up.
Spider Lifts
Spider lifts have an arm that is designed to go up and over buildings and other areas. They are particularly useful when you're working over uneven terrain or in tight, difficult or restricted areas.
Common Uses for Cherry Pickers
Even though cherry pickers are commonly used in construction, there are a number of reasons why you might hire one for your workers. Some of the most common (aside from construction) include:
Electrical sports field lighting
Servicing utilities such as telephone and electrical wiring
Filming and photography
Arbor services
Assisting emergency services
When to Contact Performance Tower Hire
Since 2015, the team at Performance Tower Hire have made the hiring of truck mounted travel tower equipment such as cherry pickers their core business business, but our experience doesn't stop there. We can also assist with any other site equipment, from traffic control, crane hire and temporary fencing.
Combined, our staff members are some of the most knowledgeable and dedicated in the industry, and we're passing that knowledge on to you every time you contact one of our experts.
We're committed to providing you with nothing but the best equipment suited to your specific needs. There's no one better than Performance Tower Hire when you need machinery to get the job done.
If you need to know more about hiring cherry pickers, or to arrange a booking, contact our reliable team today.